911 & FirstNet
Two important upgrades are underway to improve emergency communication – Next Generation 911 (NG911) and the development of a public safety broadband network (PSBN) by entities such as the First Responder Network Authority (FirstNet). These two systems, though being built separately, are envisioned to work together to deliver the access to public safety today's consumers expect.
The nation's 911 systems have not kept up with today's digital technological advances. Many public safety answering points (PSAPs)—also called Emergency Communication Centers (ECCs)—still use legacy 911 copper landline technology that's increasingly difficult and costly to maintain. First responder communication is largely based on land mobile radio technology and, as of now, data from the public cannot seamlessly move across the public safety communications infrastructure, from the public to the PSAP/ECC and on to first responders.
Emergency communications experts agree that 911 systems must transition to NG911, a digital system that accepts both traditional landline emergency calls and data-based notifications such as video and images. The entire emergency communications ecosystem must transition to a digital, Internet Protocol (IP)-based system for multimedia to move from callers to 911 and on to responders. Broadband networks such as FirstNet will transition first responder communication networks from a voice-only system to a digital, wireless network.
NG911/PSBN Interconnection
The challenge of bringing legacy systems up-to-date with NG911 and ensuring updated systems are interoperable with Public Safety Broadband Networks such as FirstNet is an evolving issue that many in the 911 community are working to solve. The National 911 Program works to bring stakeholders together to tackle the issue of NG911/PSBN interconnection.
NG911 & FirstNet Guide for State & Local Authorities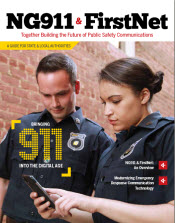 NG911 & FirstNet Guide for State & Local Authorities
A variety of resources are available to help explain NG911 and FirstNet and how public safety will benefit from the two systems.
Visit the Next Generation 911 section on 911.gov for more information on procurement guidance, examples of how others have made the transition, standards for E911 and NG911 and much more.
Last Updated: 06/09/2023