NG911 Roadmap Progress Report Details National Efforts Toward NG911 System of Systems
Published Apr 2022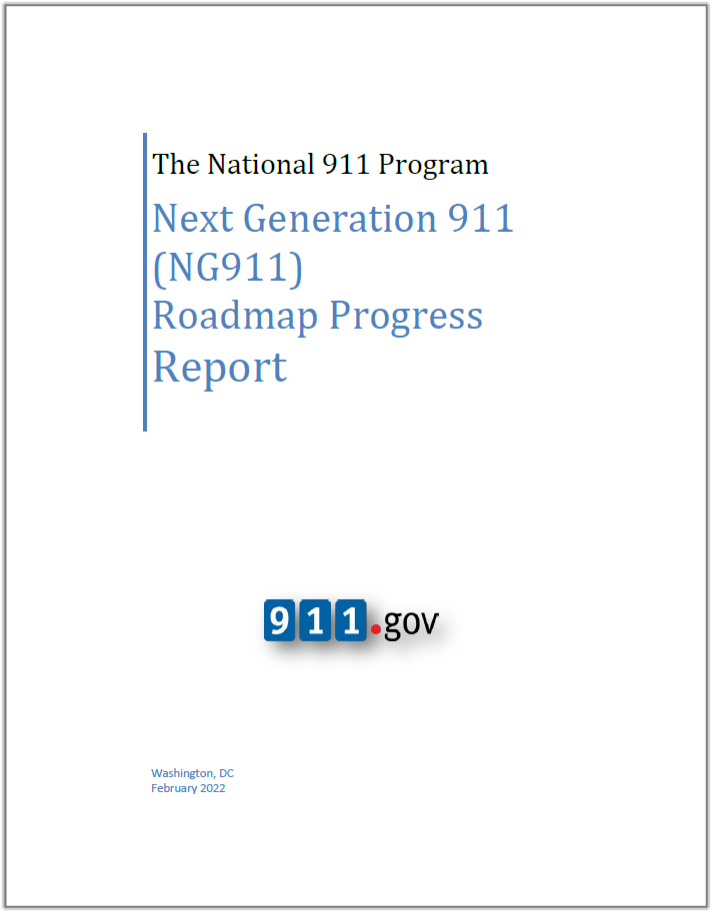 The National 911 Program recently released the NG911 Roadmap Progress Report, which details the latest developments in the 911 community's efforts to implement Next Generation 911 (NG911) in emergency communication centers (ECCs) nationwide. The progress report details headway made since the release of the original NG911 Roadmap: Pathways toward nationwide interconnection of 911 services. The Roadmap document was released in 2019 after the 911 community gathered to determine how to tackle implementing a nationwide, interoperable 911 system. This involved identifying barriers to achieving NG911 and establishing a list of technical and non-technical tasks to address those barriers.

The 911 community – as a whole – volunteers for or requests that the most fitting entities tackle the appropriate tasks, while federal duties lie in coordinating and encouraging efforts. National associations, ECCs, or others tackle the individual tasks and share the status of progress with the National 911 Program for tracking purposes only.

The Program will continue to collaborate with different organizations and entities to bridge the gaps between 911 centers and develop a "system of systems" to better serve our communities.

There are several areas still in need of contribution to make progress toward this objective. If your organization has made progress in the goal areas outlined below, please email nhtsa.national911@dot.gov to inform the Program of the work. The list of specific tasks needed to help attain these goals can be accessed here.
Business/Governance Goal: Identify resources and strategies to address regulatory, policy, funding, and governance issues that jurisdictions face independently and collectively as they transition to NG911

Technology Goal: Encourage and enable implementation of NG911 technology by promoting its open standards and establishing ways to facilitate compliance and security validations of new technologies

Data Goal: Support the improvement of 911 services by creating operational and technical data solutions to support national and cross-jurisdictional situational awareness, predictive data analysis, and information sharing

Operations Goal: Improve and promote performance evaluation, operating procedures, and professional development strategies to support the complete implementation of NG911

Cross-Cutting Goal: Facilitate knowledge and education transfers on a recurring basis
If you have questions about the NG911 Roadmap, please contact nhtsa.national911@dot.gov.