Issue #4
Published Sep 2017
A new resource produced by the National 911 Program and NASNA helps states understand how NG911 and FirstNet can work together for improved emergency communication.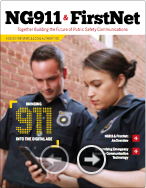 The National 911 Program explores the possibilities of a standardized data set for 911, the benefits to the community and the challenges to implement.
The Department of Defense is working with 911 to improve emergency communication during incidents involving a wide range of military personnel.