New NG911 and FirstNet Guide for State and Local Authorities
Published Sep 2017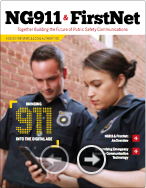 This 16-page resource identifies how FirstNet and NG911 can work together, as well as the benefits and challenges of each system.
As states' elected and appointed officials consider how to work with the National Public Safety Broadband Network, known as FirstNet, it's an important time to talk about how it can work with Next Generation 911 (NG911) for the optimal emergency communication ecosystem.
The National 911 Program and the National Association of State 911 Administrators (NASNA) worked with public safety leaders in Fire, EMS and Law Enforcement to create a non-technical resource for state and local leaders. This graphical publication highlights critical information for leaders to understand, including:
A technical overview of NG911 and FirstNet

Similarities and differences between the two systems

An infographic detailing how the two systems can work together

How to adapt 911 for the digital age
"This resource is intended to be a non-technical resource as states work to implement NG911 and FirstNet," says Program Coordinator Laurie Flaherty. "We hope the 911 community sees it as a useful tool in educating leaders and stakeholders about the potential for improved emergency communication for the public with these two very complex systems."
The resource is available for download online at 911.gov.