NHTSA Celebrates 50 Years of 911
Published Mar 2018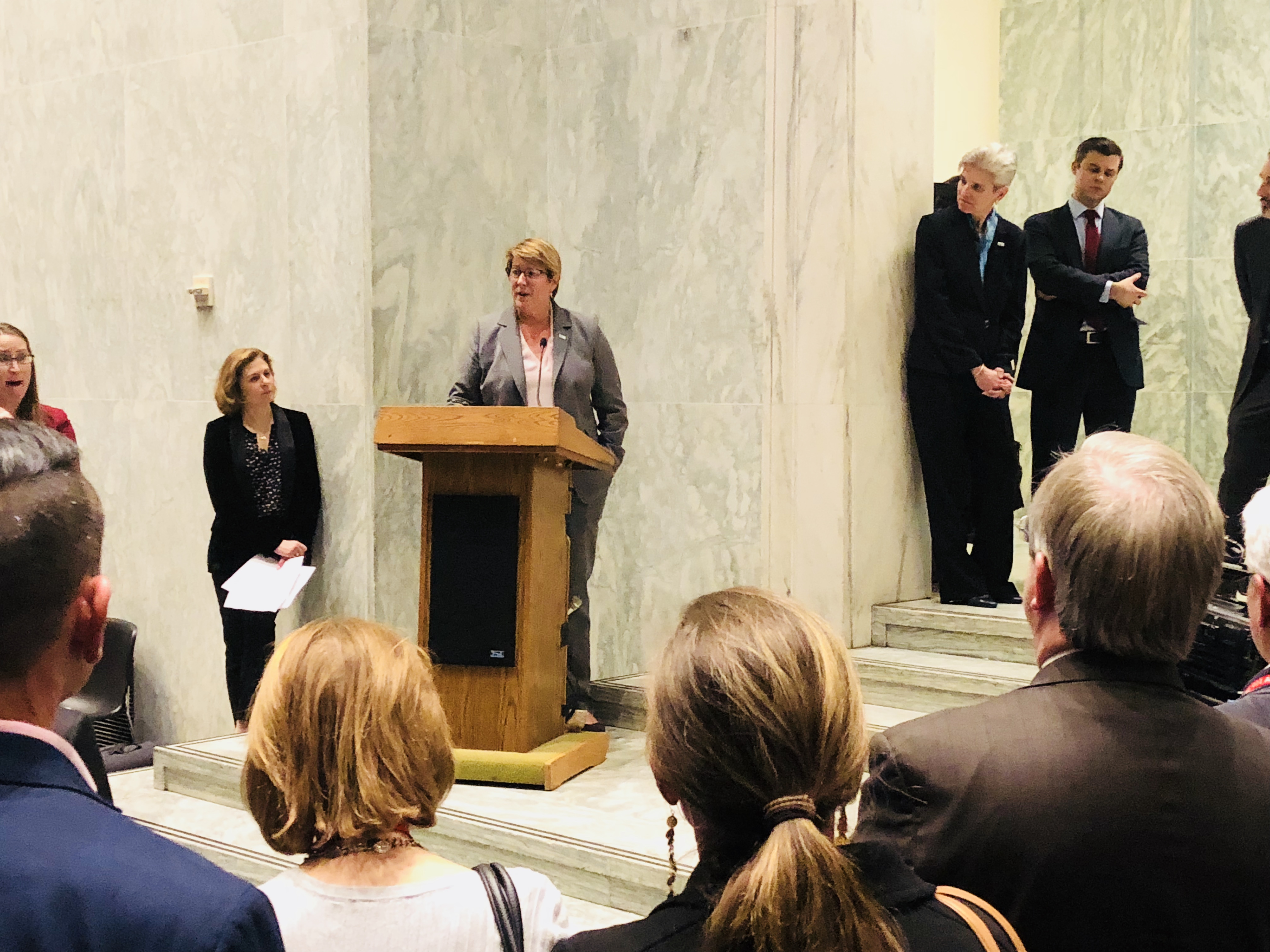 By Heidi King, NHTSA Deputy Administrator
Heidi King is the Deputy Administrator for NHTSA. King represented NHTSA at the NG911 15th Annual Honor Awards, where she shared some of her experiences as an EMT and 911 dispatcher. She also joined 911 community stakeholders in the Oval Office on February 16, 2018 when Kari's Law was signed by President Trump.
The young man telephoned from inside a closet. By his side, his mother comforted his younger sister. He breathed rapidly.
"911. What is your emergency?" I answered.
He whispered. "There's someone in our house. Please send help. We're so scared."
He told me his address. I dispatched an officer. I remained on the phone with him through the excruciatingly long minutes until help arrived.
He delivered hushed updates over the line as he heard the intruder move through the home. My ears strained listening for telltale background noises, alert for sounds of discovery or of violence.
That call was many years ago. I don't remember if the intruder left before the officer arrived.
But I remember that young man, the fear in his voice, the sound of him breathing, and the minutes that seemed infinitely long as we were connected vicariously by an old home telephone — this was long before cell phone technology — whose cord he must have pulled under the door of the closet that shielded him, his mom, and sister from the danger outside. In that moment, he only had that phone line — and me.
It's easy to take for granted the miracle that is our 911 system. Almost instantly, it connects people who have never met, and likely will never meet, with lifesaving assistance that can arrive in minutes. But it hasn't always been that way.
Not that long ago, 911 was only partially deployed — directly connecting people in cities but not in rural areas. In situations where seconds count, many callers in small towns would likely be reading their local emergency number off of a scrap of paper near their rotary phone, anxiously watching as the dial spun slowly right, then left, with the entry of each digit.
"As a former 911 dispatcher, I am proud to celebrate 50 years of this lifesaving system."
Today's 911 is also much more sophisticated than when I was a dispatcher. When I was on the phone with that young man I wouldn't have been able to dispatch help if, despite the terrifying situation and being new to the area, he hadn't remembered and told me his address. Today's enhanced 911 provides a caller's location to help connect them with help.
February 16, 2018, marked the 50th anniversary of first 911 call. I am so proud that I've been able to be a part of supporting this miraculous, lifesaving system, starting with my days as a dispatcher to today at NHTSA, where our National 911 Program continues to support and strengthen the system in partnership with the state and local governments responsible for its operation.
Fifty years later, the 911 system is an achievement to celebrate for saving lives, making communities safer, and our nation stronger.