Case Study: Iowa's 911 State Assessment
Published Apr 2021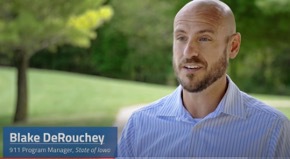 Every state's 911 program is different. Which means at least a few things: It's hard to compare one program to another and, without industry benchmarks, it may not be clear whether a given state's approach is as effective as it could be. It can also be a challenge to convince supervisors and policy makers of the need for resources to make improvements to a 911 program.
When Blake DeRouchey, 911 Program Manager at the Iowa Department of Homeland Security and Emergency Management, began Iowa's State 911 Assessment Program in spring 2019, he knew the state would benefit from an objective expert point of view. "Our goals," he says, "were to identify and analyze the progress made toward the next-generation 911 [NG911] transition so far and to figure out where we needed to go and what to work on next."
Iowa has already seen the benefits. "It gave us a roadmap for next steps in our transition," says DeRouchey. "It was really a good experience and it would be a cool thing to get on a rotational schedule where very state goes through it every 10 years or so. That could really spread information both to the states and also to the National 911 Program office."
State 911 Assessments, which are voluntary, peer-led reviews of state 911 systems managed by the National 911 Program, provide the chance for technical, operational and policy experts at the state and local level to assess what each state has accomplished and help prepare for the implementation of NG911.
Every state goes through two steps: a self-assessment and a peer review process with a team of four or five subject matter experts – and peers - in 911. DeRouchey and his colleagues learned a lot from both, he says: "Everyone brings experience from their own situation, and learning from those experiences and talking through 911 in Iowa benefited everyone."
More specifically, DeRouchey says the assessment delivered the personalized road map they were looking for – what became Iowa's five-year NG911 strategic plan – but it also identified specific opportunities for improvement. "Some of those are low-hanging fruit our small 911 team can take care of internally," he explains. "Others have led us to form topic-specific workgroups with goals, timelines and regular meetings to gather input from 911 stakeholders in Iowa, from industry, and from 911 supervisors or local PSAP folks." The recommendations made by the assessment supported the needs Iowa identified and reinforced the need for action.
Each assessment takes about four to six months, during which time the subject matter experts work with a state to help them gain new perspectives on 911 system management and develop an assessment that informs any needed changes in operations, funding and/or policy.
To learn more about or request an assessment, or to volunteer as a peer assessor, contact the National 911 Program.